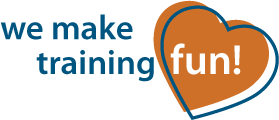 Clients at Positively Fit know fitness professional Kim Williams for her upbeat attitude and her trademark training expression: "let's have some fun, shall we?" Yet many may not realize that Kim, who has worked in personal fitness since 1985, was drawn to the studio and the work Positively Fit does with Jack Grogan and Nutri-Health through her own realization that "the diet was the key" to achieving her personal fitness best. At the same time, she has also experienced first-hand many of the same struggles and frustrations as her clients have in her own path to that personal best.
Kim recalls getting into strength training during the 90s even as she was teaching group cardio classes at one of the "box gyms" and how much she loved lifting weights—the way it made her feel and the way it made her look. At a time when conventional attitudes still held that weight training was for men, cardio for women, Kim became a walking advertisement for the benefits of strength training by dropping five pounds… and five clothing sizes in three months.
But…she knew there was a piece missing from the bigger picture, and that piece was the knowledge of what is happening internally with our bodies, and how to work with our own unique physiology. This is the piece provided by the hair analysis and the insight into metabolism that makes Positively Fit's partnership with Nutri-Health so unique. "It's about training more efficiently," she shares, not about training harder or longer or faster. This can be a hard lesson to learn, and Kim admits it wasn't until her own third hair analysis that she let go of her pride and learned to back off from the intense cardio portions of her workouts, the portions that offer an adrenaline rush of good feelings while depleting the adrenals.
"If you push your body, it's going to crash and burn," Kim notes, adding that she has seen this first hand in former co-workers who continue to over-train. While many workout regimes seem designed to help people escape their bodies and their feelings, the individually-designed training at Positively Fit is about clients coming into their bodies and their feelings. "It's about finding that line to develop what's best for each client, but the guessing is taken out by what Jack does," according to Kim. The results of the hair analysis will tell PF's trainers the client's metabolism type, stress levels, toxins, and therefore what each person should be doing in their workout to bring their body to its best state.
Even more importantly, Kim and the professionals at the studio focus on not just getting clients to that state, but keeping them there. This is supported by continuing the learn more about how to bring the physical and the physiological into balance. With Maryellen and Jack participating in industry conferences all over the country and the new insights they bring back, it is, Kim describes, "like a seminar every day."